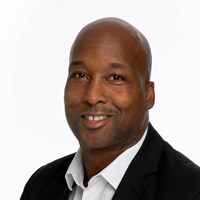 As a licensed real estate broker for Jessica Foote & Associates, Rashard specializes in providing residential real estate to investors, individuals, and families.
After getting his broker's license in 2006, Rashard ran his own independent full-service brokerage. The 2008 housing bust that quickly followed threw Rashard into dealing with the more difficult parts of real estate—high-pressure short sales and foreclosures.
He also previously served as Vice President of the Sports and Entertainment Division for a Real Estate Investment Trust.
Over time, Rashard leaned more into the real estate side of the industry, which eventually led him to Jessica Foote & Associates. And as a longtime San Diego resident—35 years and counting—he knows how to help newcomers navigate the area and find houses that best meet their needs.
While most people run from convoluted real estate problems, Rashard faces them head on. In fact, he loves solving problems for his clients. His secret weapon? Effective communication. Rashard takes time with each client to proactively listen so he can provide advice that leads to real solutions.
After graduating from the University of Southern California in 1998, Rashard played professional football in the NFL for the Chicago Bears and the Philadelphia Eagles. He and his wife, Joy, are the proud parents of five kids in Chula Vista. And when he's not serving happy clients, you can find him golfing or coaching youth and high school sports.
San Diego