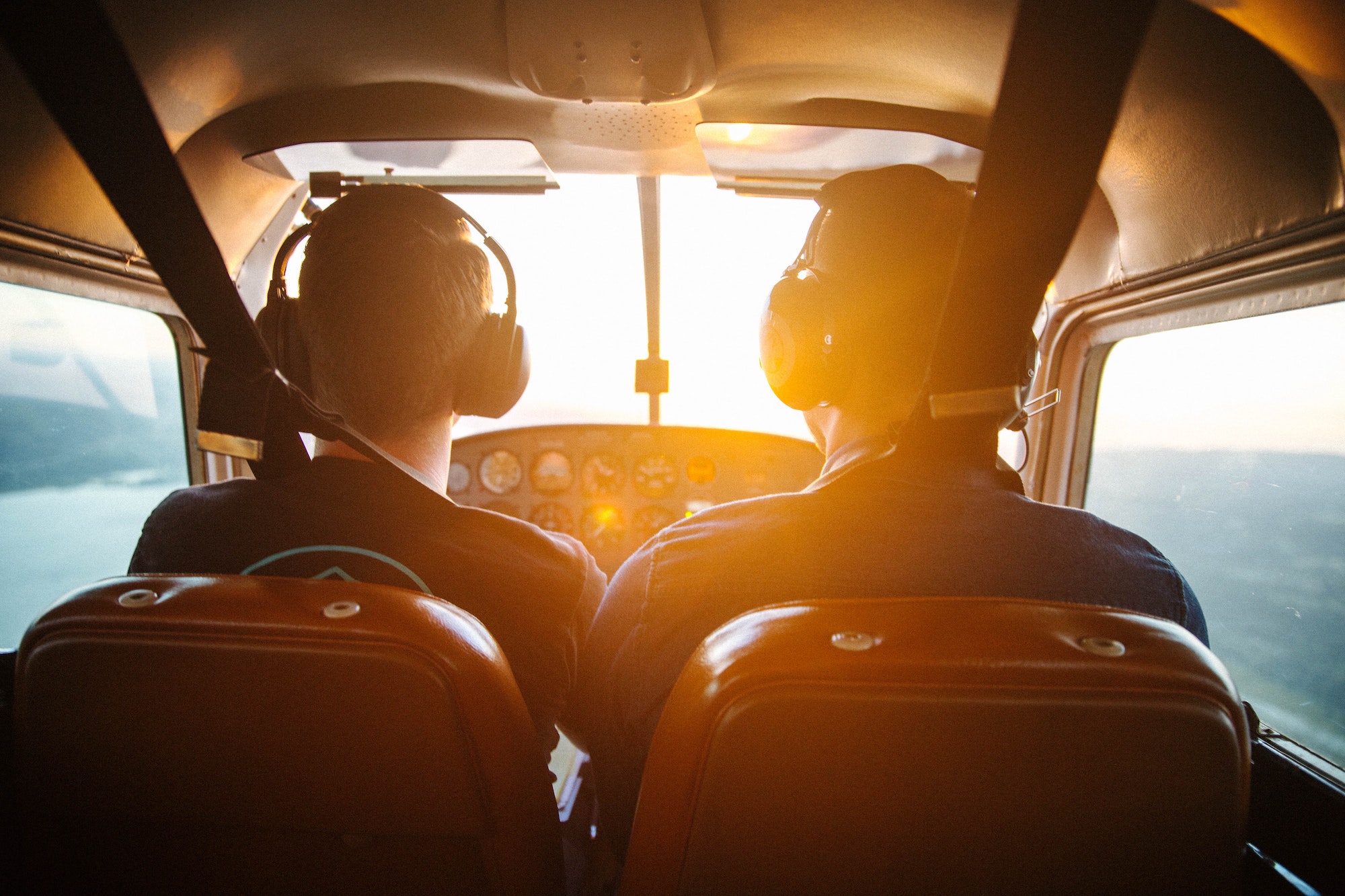 Many first-time homebuyers tell me they're afraid. And it's no wonder—it's a huge purchase that can easily feel overwhelming.
In some ways, buying your first home is like flying a plane for the first time. You might be a little scared at first (or really scared!), but once you actually do it, you're so glad you did.
Matt Stewart, a certified flight instructor in Murrieta, says several of his clients have started out afraid to fly, and especially to fly solo. But as he coaches them step by step through the process, they begin to get a feel for the plane. Soon, they're flying the plane with ease!
There are so many correlations I can draw between flying a plane and buying your first house. But first… let me tell you a little bit about Matt.
Matt officially launched Stewart Flight Training over four years ago, although he's been flying for more than five and has over 2,000 hours of flight time.
Most people who hire Matt are training to get their Private Pilot License (PPL). To get your PPL, you need 40 hours of flight time (minimum 20 hours with an instructor and at least 10 hours by yourself). Then there are certain maneuvers you need to learn, from basics like landing the plane to emergency procedures like stall recoveries.
"After training, you're able to go and take what's called a check ride, where you actually get tested and examined by a designated pilot examiner who will make sure you're at the level you should be to actually fly a private airplane anywhere you dream," Matt says.
It's a lot to accomplish and keep track of! Yet Matt says that every single one of his students have passed their check rides on their first attempt. Not every flight instructor has that track record, but Matt's students do well because he gives them detailed knowledge and coaching before they ever go to take their check ride.
"A lot of flight schools out there are like pilot mills, where they rush students through the whole process," Matt says. "If they pass, they pass, and if they fail, they fail. But I don't like doing that. I like to really take the time and effort to make sure that every student will pass when they go take it."
How Flying a Plane Is Like Buying a Home
I have to say I love Matt's approach! And it's fairly similar to what I do with my own clients.
When first-time homebuyers come to me with fears about plunging into the housing market, my team and I provide detailed, step-by-step answers to help alleviate those fears.
For example, many first-time homebuyers tell me they're afraid they can't afford to buy a home because they think they have to have a 20% down payment. The truth is that they don't!
This particular fear stems from being unfamiliar with the financial process of getting a mortgage. When I walk homebuyers through how that process works, it alleviates the pressure to save a huge down payment.
I also provide my clients with a step-by-step buyer's guide. It's a physical document that walks them through the process of buying a home. That way, I'm not overwhelming them with a firehose of real-estate knowledge in one conversation. They can study the guide at their own pace and get a strong feel for what to expect. And of course, I'm always here if they have questions.
This method almost always works to alleviate home-buying worries. Why? Because we're removing the fear of the unknown and replacing it with knowledge. And knowledge is power, especially when it comes to real estate!
Tips for First-Time Homebuyers
If you're still wrestling with some doubt regarding buying your first home, there are several things you can do.
First, get clear on your goals. How many bedrooms do you want? Do you want a yard for the kids to play in? How big do you want the house to be? These are all important questions to consider when buying a home.
Remember, your first house does not have to be your forever home. Be honest with yourself about your needs versus your wants. If you want a 5-bedroom home right now but can only afford a 2-bedroom townhome, that's okay.
You can still make plans for your dream home in the future. But for now, it's all about getting your stake in the real-estate market. As long as you're planning to stay in the home for at least six months to a year, it's worth buying now.
Lastly, be wise about your monthly payments. Some lenders will pressure you into taking out a loan that will end up putting a bigger strain on your finances than you want. Don't depend solely on your lender's recommendations. Crunch the numbers yourself and find out what you feel comfortable with.
What other concerns do you face as a first-time homebuyer? And what are you doing to replace that fear with knowledge?
Don't forget to check out Matt's flight school at cfimatt.com! Once you get past the fear, flying—like buying your first home—is an incredible experience you'll never forget.
---
Photo by Avel Chuklanov on Unsplash